Renowned as a popular honeymoon destination, Mauritius has also become a popular golfing centre. With ten top quality courses, there is plenty of choice to keep golfers interested.
The rich heritage of the island has left a cosmopolitan feel to life on the island. Once a colony of both the British and the French, the official spoken language is French but written language is English.Throw in the local Creole dialect and you get a vibrant and diverse culture.
Inland, the island still retains its core industries of sugar cane, fruit and spice plantations. Excursions on offer include lunch at one of the old colonial plantation houses to sample Creole Cuisine and tots of local rum or to taste spices in the busy Port Louis market.
Water sports of every discipline are on offer, from scuba diving to catamaran dinner cruises. Deep Sea fishing for Marlin, Sail fish and Tuna is very popular with charter boats available for full or half day. Although on a catch and release basis now, game fish features heavily of the hotel menus.
The island is easy to navigate and it is possible to rent hire cars at the hotels or take advantage of the many shuttles on offer. Although the island is not that large, it can be quite time consuming to reach destinations on the other side of the island.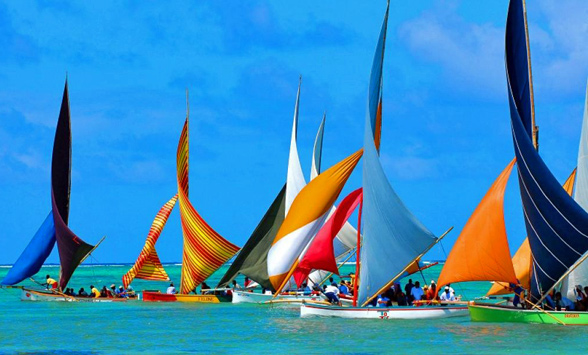 Holiday ideas for a break in Mauritius, either to play golf or just relax and enjoy the stunning beaches of the island. It is also possible to combine a holiday in Mauritius with South Africa, Tanzania or Kenya for a safari.